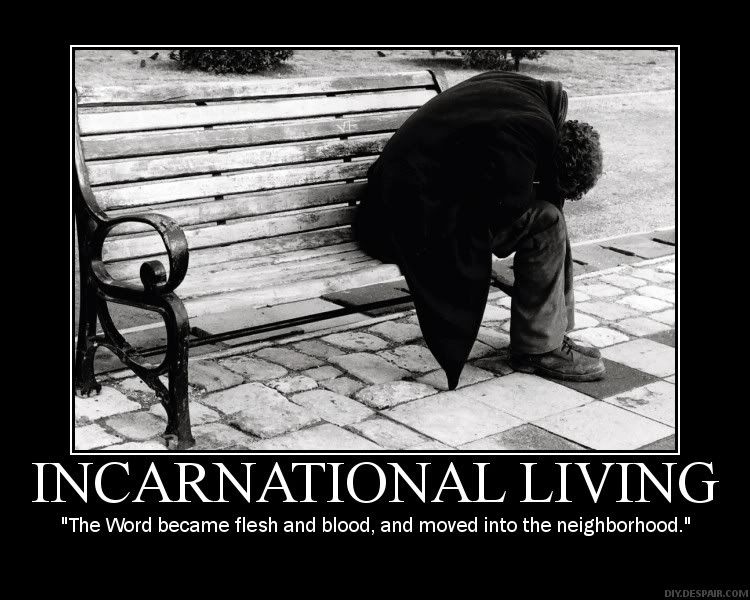 Warning, this will be a long post, but it will likely be my only post this week, so save it for when you have a few minutes and a cup of coffee.
I wanted these thoughts compiled in one place for my own consideration. It seems like everywhere I turn lately, I am being drawn to incarnation, the idea that we are sent by God.
Again Jesus said, "Peace (shalom, wholeness) be with you!
As the Father has sent me, I am sending you.
" And with that he breathed on them and said, "Receive the Holy Spirit."
(John 20:21-22)
So how did the Father send Jesus?
"...beginning in Galilee after the baptism that John preached— how
God anointed Jesus of Nazareth with the Holy Spirit and power
, and how he went around doing good and healing all who were under the power of the devil, because God was with him."
(Acts 10:37-38)
And how did Jesus send us?
"But
you will receive power when the Holy Spirit comes on you; and you will be my witnesses
in Jerusalem, and in all Judea and Samaria, and to the ends of the earth."
(Acts 1:8)
"But when he,
the Spirit of truth
, comes,
he will guide you into all truth
. He will not speak on his own; he will speak only what he hears, and
he will tell you what is yet to come
. He will bring glory to me by taking from what is mine and making it known to you. All that belongs to the Father is mine. That is why I said
the Spirit will take from what is mine and make it known to you
."
(John 16:13-15)
The Holy Spirit is our witness to the resurrection and reign of Christ. He enables us to see and know the kingdom dimension.
John Frye speaks about this in his post
I Brought You My Son
.
He opens with...
"The church is the presence of Jesus in the world. Let's think about that."
And the heart of what he is saying...
"Oneness with Jesus and the Father...that the world may believe that the Father has sent Jesus. That reality is about us--the church."
A few verses I have added that emphasize what John is saying...
"On that day (when you receive the Spirit) you will realize that I am in my Father, and you are in me, and
I am in you
."
(John 14:20)
"For in Christ all the fullness of the Deity lives in bodily form, and
you have been given fullness in Christ
."
(Col.2:9-10)
This post by Jason Zahariades,
Defining Incarnational
, was an important post for me because it moved my understanding of incarnational beyond the idea of sentness and into the realm of embodiment.
About simply defining incarnational as being sent, Jason says...
"However, I think this is a truncated and perhaps even a distorted view of incarnational.
To incarnate means to embody
."
A couple of other thoughts from his post...
"...participating in God's mission requires doing so in his character. God's mission is carried forward by his stewards as
we embody his character
."
"
Growing into the likeness of Christ
is the core of our participation in God's mission. Without that, missional activity is simply activity."
Jason's thoughts emphasize the importance of God's redemptive process being an increasing reality in our personal lives, that Christ's nature and character be the substance of what we embody. As we pursue the mission of God's reconciliation to the world, it is vital that we also pursue God's restoration to wholeness in our own lives, that His reign increases in the territory of our hearts as well.
It is through embracing the transforming power of His Spirit in our lives that we participate in His divine nature, that we incarnate His life and nature.
"
His divine power has given us everything we need for life and godliness
through our knowledge of him who called us by his own glory and goodness. Through these he has given us his very great and precious promises,
so that through them you may participate in the divine nature
."
(2Peter1:3-4)
John Santic recently posted a 3-part series on incarnation entitled
The Church Moves Into the Neighborhood
.
Several good points from his series...
"This must cause the church to move beyond trying to rationalize faith (as it so often does) according to the scientific principles of modernity, and
begin to live and breath the resurrection
as a result of being in Christ.
We must embody the resurrection
in historical word and deed following in the footsteps of Jesus."
"To live out of a hermeneutic of love is the invitation knocking on the door of the church in the West."
"Jesus "…is not about 'soul-making', the attempt to produce or train disembodied beings for a future disembodied life."
"...the lack of a robust Jesus has dimmed her (the church's) understanding of vocation to a point where discipleship has been neglected."
Picking up on this theme of discipleship is Brother Maynard's post,
Monastic Discipleship, Spiritual Formation...and the Jedi
.
This post furthered my thinking about how we impart and share the life and nature of Christ with one another and with the lost. We seem to have lost true discipleship in our formulaic and programmatic approaches to learning in the church. (On a side note, I think this is at the root of our questions about what to do with the children.) Brother Maynard suggests a more holistic, organic approach which I believe is deeply connected to our understanding of incarnation.
"We live it out, in all of life — we live our faith. We follow our Master, Christ, after whose pattern we are gradually formed. It's a lifelong process, so we do not expect a quick-fix but are willing to invest in ourselves and in others, to be involved in their lives. To share our own life with them."
Alan Hirsch's links the idea of embodiment to discipleship in his post
Passing the Baton
.
"When we try to translate this idea of embodiment in terms of missional strategy as to how we impact people with the Gospel, it will mean that
we ourselves must become a substantial representation
of what for many outside of Christ is an otherwise rather nebulous theory. This concept is therefore not just existentially significant for an authentic life, and it is that, it is
absolutely crucial both for the transmission of the Gospel beyond ourselves, and for the initiating and survival of missional movements
. It is critical to the authenticity and vitality of the Church's mission."
One of the Scriptures he includes that demonstrates this kind of patterning and modeling is I Thessalonians 1:5-6:
"...because our gospel came to you not simply with words, but also with power, with the Holy Spirit and with deep conviction. You know how we lived among you for your sake.
You became imitators of us and of the Lord
; in spite of severe suffering, you welcomed the message with the joy given by the Holy Spirit."
I hope these thoughts from Scripture and the writing of others adds depth and color to your picture of what it means to be incarnational.
A final thought...
I used to skim over the greetings and benedictions in the epistles, but I have recently come to really appreciate them. It seems that the apostles took the opportunity in their greetings to remind people in a few short powerful sentences of who they are and what God's purpose is for them. One of my favorites, which I believe captures the idea of incarnation and embodiment is Ephesians 3:16-19.
So I will close with this prayer for all of us as we seek to truly live incarnational lives.
"I pray that out of his glorious riches
he may strengthen you with power
through his Spirit in your inner being,
so that Christ may dwell in your hearts through faith.

And I pray that you, being rooted and established in love,
may have power, together with all the saints,
to grasp how wide and long and high and deep
is the love of Christ,
and to know this love that surpasses knowledge—
that you may be filled to the measure
of all the fullness of God."