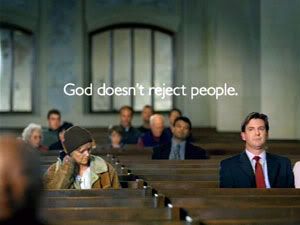 This new
ejector pew ad
by the UCC is provoking some interesting discussion around the blogosphere.
There have been two topics of discussion that caught my attention.
The first topic is that the image of the upper-class family is stereotypical and unfair. Because I have been blogging about this recently, I would like to say that creating "WASP" guilt won't help in promoting inclusion. I don't believe that white males must now crawl in shame to absolve historical abuses.
Rather than guilt or shame about having privilege, we should consider whatever privilege and status we hold as currency to be spent in furthering the kingdom.
Let's assume that the family is representative of an attitude of exclusivity and superiority. That attitude is something we can all agree should be rejected.
The other topic of discussion concerns the doctrinal accuracy of the statement "God doesn't reject people." If you assume that rejection implies the person is seeking God, then I agree with this statement.
I think one of the biggest mistakes the church has made is taking on the responsibility of determining who is in and who is out. So many people are hurt by churches because of this single issue. What if, in our limited understanding, we are wrong about who God really embraces?
I think our gatherings, fellowships, organizations, or whatever we have should be open to everyone. Why should we set up boundaries of membership to our club when we don't know what God is doing in someone's heart? Can't we trust that the Holy Spirit will bring transformation to hearts and lives?
What if we loved dangerously? What if we risked extending love and fellowship to people "while they are yet sinners"? How about we let God decide who's in and who's out.