I have to admit that low-rise jeans leave me feeling
ummm....vulnerable.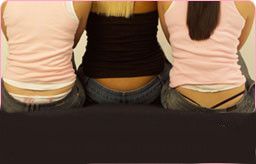 As a middle-aged woman, my clothing policy is containment.
I hope to contain my body parts within the clothing I wear,
without risk of exposure.
Who hasn't snickered
at a plumber or handyman
hunkered down under the sink
with his half-moon
exposed to the world.
This used to be the problem of construction workers,
repairmen,
and hairy guys with beer bellies.
Now women everywhere are at risk of...the plumber's smile!
No longer can we reach the bottom shelf without worry.
Instead we tug at a too-short shirt trying to close the gap.
We must look for a place to sit with our back against the wall.
At a time in our lives when we were expecting to get comfortable in a housecoat and hair rollers, we are faced instead with
"hip huggers"!